Is It Your Heart's Desire to Pursue a Hollywood Acting Career?
Hollywood Acting Career Kickoff
For Kids
Don't Waste Any More Time Just Thinking About Your Dream…
It's Been Long Enough, Hasn't It?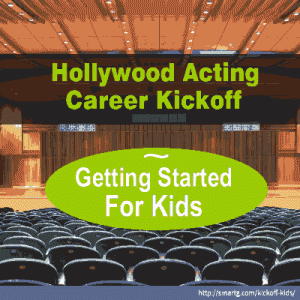 Many people who would love to be an actor put off pursuing it for way too long. Then they feel like it's "too late to start." And they feel kind of silly even admitting it.
Don't let that be you…. Or if you're at that point, tell that little voice in your head to "simmer down!" And YOU start taking acting now.
Want to know what it takes to get started on an acting career?
What You Get With This Package
Starter Acting Resume
Guidance on Getting Headshots
Introductory Cover Letter Mailing To Agents
Hand-Picked List of SAG-AFTRA Talent Agents Most Open to New Actors
Hollywood Actors Crash Course Guidebook
Short List of Disney Casting Directors
One-On-One Coaching through the Entire Process with Phone and Email Support

Since 1992, we have helped well over 5000 actors get agents through our professional Mailings to Agents. It's a very straightforward and powerful system that we use to create the best possible cover letter package for you to send out. Call today!
Click the Add To Cart button to start achieving your dream TODAY!