Want your chance to be a Working Actor?
Get a Talent Agent Now!
Find an Agent Who Can Produce Results 
With a Cover Letter Mailing or Talent Agent Email Marketing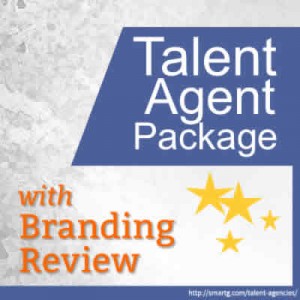 Frustrated at seeing other actors in spots on TV that you could be perfect for but didn't even get a chance to audition for?  
Some actors get  downright cynical and resigned over not getting to audition for something they know they're right for…. and qualified to do.
Whether you're at the point you're frustrated, cynical and resigned, or if you simply want to get more auditions, then you're at the right place. 
You probably already realize that to get in for the real auditions — studio films and broadcast television — you need to have an agent to represent you.  Almost all casting for the big projects — the ones you want to audition for — go through the Breakdown Service and through to agents.
If you don't have a strong agent representing you, then you need to get one…. like yesterday.
But you may be wondering if you have enough credits? Or not sure what sets you apart from the thousands of other actors trying to find work. Or maybe you're not sure if your headshots are good enough.
None of that matters… unless you're actually putting in the effort to try get an agent.  I mean… you can worry and wonder all you want, but unless you're trying to get an agent, it doesn't matter.
It's only when you actually make the effort to get an agent that it even matters if you're headshot is good enough…. or what sets you apart…. and all the reset of it.  
But if you're actually trying to find an agent, then …. it's everything.
All of those things matter…. and for each of them, you need to have it all be your best shot. 
I know that can be a lot of pressure, but I'm about to tell you about an incredible way to approach talent agents with ease and feel confidence so you know you've put your best foot forward. You know you've given it your best shot.
Let me explain….
At my company Smart Girls Productions, I do cover letter mailings to talent agents and managers to help actors get representation. It's my signature service for actors that I call very simply Cover Letter Mailing to Agents.  I can help you do it with a hard copy letter you send through the mail. Or we can do an email blast.
I've helped over 5274 actors get representation with legitimate, SAG-franchised agents and managers over the last 20 years.  
 Here's what one of our clients had to share!
When you write to agents, your letter has to pitch you so that you stand out. So your uniqueness comes through.  Too many times, when I read a letter an actor has written, it sounds like a nice polite letter — good spelling and all — but it doesn't sell them. In fact, that letter the actor has written usually anti-sells the actor because it sounds boring!
When you have me write your letter, you get this:
Your letter will have just the right amount of personality to give the agents a little taste of who you are.
Your credits will also be worded in a way that sounds the best they can.  Too often actors play their credits down because they feel like they should have more credits, or better quality credits.  That can be the death of your letter, too.
Bottomline… when you have me write your letter, you'll get a fantastic letter that is ALL TRUE… and makes you proud of yourself!  
How do I do that, you might ask?  
The answer is too long to explain… but having written over 5000 cover letters that have landed 80% of the actors with agent, having over 20 years of experience pitching actors, and earning my Ph.D. in mythology and studying archetypes is definitely part of the answer to the question of how I do this.
Here's a quick video of me explaining how the mailing works:
How Will An Agent Mailing Help You?
Here's What You Get With Your Agent Mailing
A professional cover letter to talent agents introducing you. Your letter will present the true, authentic you at your best. You'll be impressed with yourself when you read it.
75  hand-picked talent agents (or personal managers) for the right level for your career.  You can include any agency you want to be with and exclude any agents you've already been with — including your current agent if you have one!
You can target commercial or theatrical agents, or a combination of both.
Feedback on your headshots, resume, and demo reel. Too many headshots look dull and flat. Yours must look like your casting and look professional — we give you feedback to make sure it's right. We will show you how to maximize the quality of your credits on your resume if it doesn't already. 
You walk away with a custom cover letter written just for you… individually addressed to the 75 agents that have been hand-picked just for you.
Your receive a Smart Girls Mailing Tip Sheet telling you the exact best way to mail your packages out so that you don't look desperate or unprofessional and ruin your chances in the process.
You mail it out and BOOM!  You get calls directly from the agents who are interested in you starting from the next day and up to a month later. You get your agent and become part of our 80% Success Rate that we've kept for the last 20 years!
Place Your Order below. Select to mail to Talent Agents, Personal Managers, or a Booty Kicker Combo mailing to both.  Click the ADD TO CART  button to get started TODAY.
Or if you have questions, call us at 818/907-6511 for your appointment.
You Don't Have to Worry About How to "Sell Yourself"
You fill out our proprietary Actor's Career Profile telling us about your background, and we do the rest to write your cover letter. You get final approval, but you don't have to sit down and stress out trying to figure out how to "sell yourself." We do it for you!
No Need For Weeks of Research On Which Agents To Target
If you've ever tried to research agents yourself, you know that after about 10 minutes, you feel overwhelmed and many times might just put it off. We know that it's no fun for actors. But being computer geeks, we've been tracking agents for years and we slice up the list and categorize them a bunch of different ways… so you don't need to!
Wondering About Your Casting?
Many actors are not completely clear how others see them and what they're casting should be. And if you've done this for a while, your casting may have changed. Your mailing includes input on how we see your casting. This is based on us having seen tens of thousands of good, bad, great, and awful headshots over the years. We help you clarify your casting brand.
Nice Neat Awesome Professional Letters Printed For Your Mailing
No matter how much thinking you do about a letter. No matter how much research you do. At some point, you have to get a letter printed out, addressed to the right people. There's a boatload of computer stuff to do. Using the Smart Girls Cover Letter Mailing service, you don't have to do any of it. All you have to do is email us.
We make it so easy for you it's ridiculous!
Agencies are Rated A, B, C, or D
You no longer have to shoot in the dark trying to find an agent at the right level. We rate them to help pick your best ones.
Super Custom List of Agents For You
You can have us add or remove any agents you want! We start with an overall list hand-picked from there and we can tweak it even more after that to your heart's desire!
Your Personal Brand & Vibe
We write your letter in the tone of your personality, so even though we are using a system that works, it still represents you.
Commercial, Theatrical, or Both
Many actors are seeking agency representation for both commercial and theatrical, but some only want one. We can do either type or both in the same mailing, so you get it all done at at once.
Notice: We don't work with everyone!
We work only with actors who have good attitudes or who can get themselves to be positive. If you're always negative about your career, we will not work with you. Everyone gets down at times, but we've learned that if you are not positive and hopeful about your career, then nothing we do is going to help.
Having doubts and frustration is normal, but if you're mostly negative or cynical about your career, we're not a good match.
If you're ready to reach out again and put all of your best forward, then let's do it.
Don't put off Getting Yourself an Agent any longer since it's so easy to get one now.  You deserve your chance at Hollywood!  
We make it so easy for you it's ridiculous!
Don't put it off any longer.
Make your selection and hit the Add To Cart button of your choice.
Join over 5000 other actors who have gotten their agents through our custom Cover Letter Mailings. Get your cover letter to 75 Agents specifically hand-picked for you and get your career moving today. 
Click the Add to Cart button above to place your order and Instantly get your Actor Profile to get started on your journey toward getting a "real" agent to represent you.
Click the ADD TO CART  button to get started TODAY.
Or if you have questions, call us at 818/907-6511 for your appointment.