Is Your Child Interested in a Hollywood Acting Career? Or Do You Want to Give Them a Chance You Wish You Had Had?
Hollywood Acting Career Kickoff For Kids
If You Want To See What's Possible For Your Child, Let's Give Them a Real Chance… the Real Way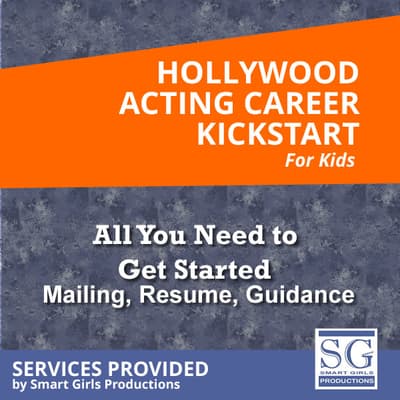 Many children dream of being a famous actor.
Some kids are so darn cute and charismatic and unpredictably creative that you, as their parent(s), feel like they deserve to have a chance to see what's possible.
Over my 20+ years of working with actors — mostly adults but also many parents of children — I've found that we don't know who will end up being the breakout talent who gets to live the Hollywood dream.
Some young actors become working actors. A select few become breakout Disney stars like Miley Cyrus, Britney Spears, Zac Efron, or Justin Timberlake.
I have personally believed for as long as I remember that I MUST TAKE THAT CHANCE for something to even have a possibility of happening. Maybe you do, too.
In fact, after this happened, I believed it more than ever.
I was a die-hard Bruce Springsteen fan for many years. I even wrote my Honor's Thesis in college on one of his songs, analyzing and breaking down how that one song fully captured and deeply embodied the essence of the culture in so few words. At one of the many concerts I attended where I sat down in the first few rows, I took a copy of my Thesis and passed it on to one of the stage guards to pass on to "Bruuuuuce!" (as the crowd would chant).  I gave myself the POSSIBILITY that I would somehow connect with The Boss.
Years later, I met and spoke to him one-on-one on two different occasions in Los Angeles. And on two more occasions, I was at the same small event he was at.
These four chance meetings with my hero were not a direct result of me giving my thesis to the stage bouncer… these meetings came out of nowhere.
Or did they?  Of all of the many, many celebrities I might have met in my two decades plus in Hollywood, he is the only celebrity I've run into on FOUR DIFFERENT OCCASIONS… four totally different locations in the Greater Los Angeles area.
I don't have a precise explanation for why that is… but I do believe that on a very practical level that you MUST give yourself a chance… you MUST set the wheels of the universe or the energy or God or whatever you want to call it … in motion.
And I did that.
And I experienced two of the most exciting moments of my life.
By being clear and taking action… creating a true opportunity, a CHANCE for something happen, I put my intention out there… and somehow I ended up meeting him…. TWICE.  Which is even better than ONCE!
I know that's not the same thing as giving yourself — or your child — a chance at an acting career. But I also know that there's something about about TAKING ACTION that sends a message out to the world that you believe something could be possible…  and that you're on board with it… and you welcome it to happening.
That's the idea behind the Hollywood Kickoff for Kids.
It's about putting some true ACTION toward making it possible. I designed this package to help you do just that.
What You Get With This Package
Let me lay out exactly what you get and why I'm including it…
Starter Acting Resume —  Even if your child is brand new to acting, there are some basic things that need to be on their resume. If they have performing credits or acting classes, great. That goes on there. But even if they're new, we need some basics — and I'll guide you on the other kinds of things we can put on there. No need to lie or stretch the truth — we'll put the real deal and make them look their best.  I'll work with you to create a resume that is appropriate to present your child to the agents.
Guidance on Getting Headshots — This is a tricky area. Sometimes you come across these "modeling and acting schools" that include headshots as part of their $2000 or $3000 program and they have a little room set up and it takes a half hour to shoot. Most of the time, those headshots end up looking like Sears Glamour Shots. Those don't work. You need to have professional headshots — which have a whole range of prices. The key is not the price–the key is to make sure they look like professional Hollywood actor shots.  There's some leeway with kids since they grow and change so fast — I will guide you in that process, so it suits your budget.
Introductory Cover Letter To Agents  — This is the heart of this package. I write an awesome, cute, representative letter for your child to send to the agents.  There are a few ways to do this and I will create it custom to you, your child, your child's age… and really, just whatever I think will work best. And you'll have the final approval.  It won't be finalized until you approve it.
Hand-Picked List of SAG-AFTRA Talent Agents Most Open to New Actors — If the letter is the heart, the List is the lifeblood…. I have been tracking talent agents (and managers) for over 20 years.  I know who are the biggies, the small ones… the ones who are tough and rude and the ones who are nice… I "got their number" — I track them all. And I will pick out the ones who would be best for you.  We can go to a very targeted smaller list of 25 or we can expand it to 50 targeted agents …. for your child… based on the strategy you and I discuss.  (Same price.)
If you want 50, I give you 50!
If you want a more targeted 25, I give you 25!
Either way, once you send out your letters and/or emails, I will be there with you the whole way to guide you through deciding who to sign on with.
The thing I am most committed to and most adamant about… is that I want to MAKE SURE you don't get with some scam.  The agents I select for you are only ones who have an agreement with SAG-AFTRA and they will not charge you a penny to represent your child.
Hollywood Actors Crash Course Guidebook  — This is a book I wrote to explain the whole business in a basic but thorough way.  I based it on what I learned over the course of one spectacular year — my first year of acting — when I "fell into" finding this crazy B movie director who had an "acting business" school in Hollywood. By chance!  Or was it?!  (lol) — I truly learned how the business worked from this guy in one year — which no other school I attended taught. And I put that in this book, along with ALL the answers to basic questions I've gotten about how to get started in Hollywood. This book has tons of tips for actors who are just beginning to advanced actors who are looking for some cool tips on how they can refine certain things. I highly recommend my own book!  If I may be so bold… which I am!!  🙂
One-On-One Coaching through the Entire Process with Phone and Email Support — This is very important as part of this package, and I actually also enjoy it, so I'm happy to help.  I know that as a parent who is trying to guide your child in this business, you want to both give them their best chance… but also to protect them from the craziness you've heard about … and rightly so.
As you go through this entire process, you'll have my phone number to call me and ask me questions as you need to…. I just hope you don't call me after 9PM!  Or before 6AM!  But… if you do, you'll get my voice mail and I'll call you back the next day!
If you think this is your "knock at the door" to give your child a chance in Hollywood, then let's do it. Click the Add to Cart Link and place your order. It's $525 for the package…. and we'll get started right away!
Just click the Big Green Get Started Button below. It will take you to a secure checkout over at our sister company Hollywood Business School (HBS).
[themify_button text="#ffffff" color="#32cd32″ target="blank" size="xlarge" link="https://hollywoodbschool.com/cart/?add-to-cart=5168″]CLICK HERE TO GET STARTED[/themify_button]
Since 1992, I have helped well over 5000 actors get agents through our professional Mailings to Agents. It's a very straightforward and powerful system that we use to create the best possible cover letter package for you to send out. Let's get your chance started. Just click the Add to Cart button above.
Want to know what it takes to get started on an acting career?
Click the Add To Cart button to start achieving your dream TODAY! Once you click the button, you'll get a chance to review it all before paying. The HBS site is also the residence of the Bonus Course you get, the Talent Agent Mailing Green Room. Here you go:
Click this Big Green Get Started Button now.
[themify_button text="#ffffff" color="#32cd32″ target="blank" size="xlarge" link="https://hollywoodbschool.com/cart/?add-to-cart=5168″]CLICK HERE TO GET STARTED[/themify_button]
There are four things that you need to get started.  Watch this video to see what they are:
What You Get With This Package
Starter Acting Resume
Guidance on Getting Headshots
Introductory Cover Letter Mailing To Agents
Hand-Picked List of SAG-AFTRA Talent Agents Most Open to Child Actors
Get Started in Acting EBOOK
One-On-One Coaching through the Entire Process with Phone and Email Support
Click this Big Green Get Started Button now.
[themify_button text="#ffffff" color="#32cd32″ target="blank" size="xlarge" link="https://hollywoodbschool.com/cart/?add-to-cart=5168″]CLICK HERE TO GET STARTED[/themify_button]
Once you pay at the Hollywood Business School, you will get immediate access to the Green Room to begin your journey! Let's do it!