Have You Been Longing For Your Shot at a Hollywood Acting Career?
Ever Wish You Could Just Do It…
Just See What Might Happen If You Got That Chance? 
Well… Here's Your Chance…
Hollywood Kickoff For Adults
Recover Some of the Years You Lost Just Dreaming About Being an Actor … Start Now to Cut Years off Your Learning Curve…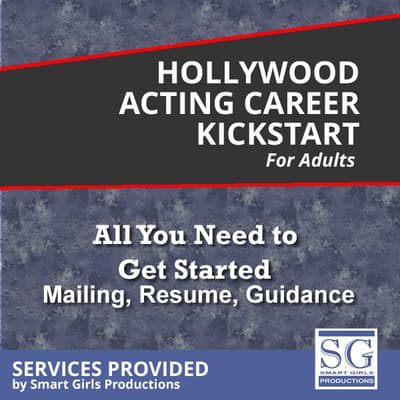 Would you love to be an actor appearing in TV shows and movies?
Have other things gotten in the way of you trying? … Family… school… jobs… money…?
These are the common things I hear… constantly… from people who wish they had started sooner.  They put off going after their dream for way too long… and about they time they feel like going for it… They realize it's "too late to start" … and they put it off again.
But then one day, it hits them.  
They finally wake up and say, "What the h#%@! I might as well give it a try."
They finally decide to give themselves a chance… and their only regret?  They wish they had done it sooner.  They regret wasting the years just thinking about it.
And they're the lucky ones.
You see… many of them never give themselves a chance at all. And they feel sad about it and it sticks with them. They feel sad that they never gave themselves any chance at all…nothing…  just to see what could happen.
I know this because when I tell people what I do — help actors get started in a Hollywood career — so many people tell me they always wanted to be an actor… but they never had the guts to go for it. And they regret it.
Why do people regret never taking a chance on acting career in such a heart-felt way?  It's because it a desire of the heart. If you are someone who wants to be an actor, it's not because you think it'll be easy. It's because it's in your heart!
That's why the regret is so strong if you don't do it! You're not following your heart's desire if you don't at least give yourself that chance!
Please don't let that be you.
My message for you…
Quit Wasting Time Just Dreaming About It…
Take Action Toward Your Heart's Desire!
Make Your Acting Dreams Real!
Time is passing. Day by day. Year by year.
If you have a dream, the time to go for it is now.
Fortunately, you can make up for some lost time, because using our services, we can guide you through the process and get you up to speed FASTER than anyone.
There are four things that you need to get started.  Watch this video to see what they are:
What You Get With This Package
Starter Acting Resume
Guidance on Getting Headshots
Introductory Cover Letter Mailing To Agents
Hand-Picked List of SAG-AFTRA Talent Agents Most Open to New Actors
Get Started in Acting EBOOK
One-On-One Coaching through the Entire Process with Phone and Email Support
[themify_button text="#ffffff" color="#32cd32″ target="blank" size="xlarge" link="https://hollywoodbschool.com/cart/?add-to-cart=753″]CLICK HERE TO GET STARTED[/themify_button]
$525
Your order will be processed within 2 business hours and you will receive your questionnaire! We look forward to working with you in pursuing your dream. Go ahead and place your order now.
Since 1992, we have helped well over 5000 actors get agents through our professional Mailings to Agents. It's a very straightforward and powerful system that we use to create the best possible cover letter package for you to send out. Call today!
Click the Add To Cart button to start achieving your dream TODAY!