Get Your Script In Front Of Hollywood Producers
Smart Girls Script Marketing Campaign and Query Letter For Your Screenplay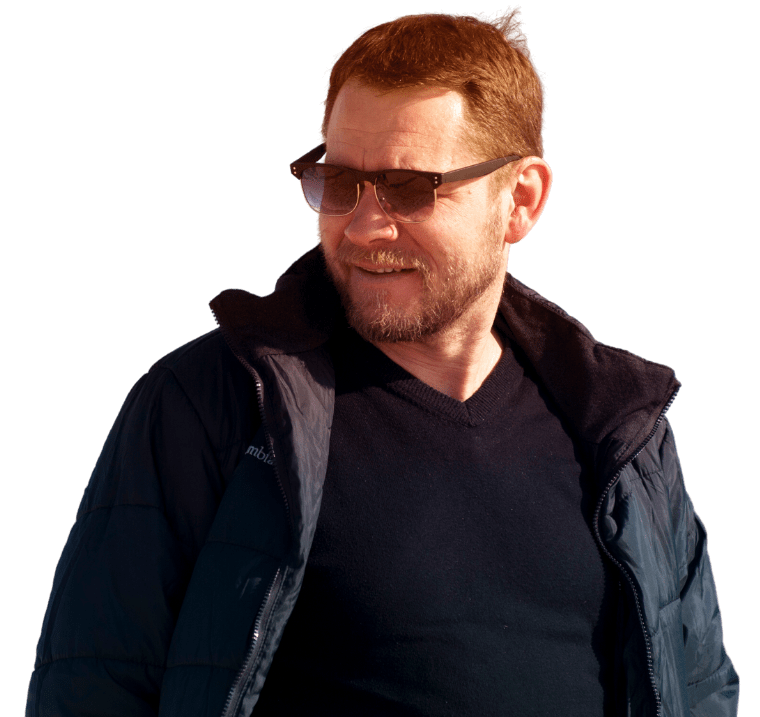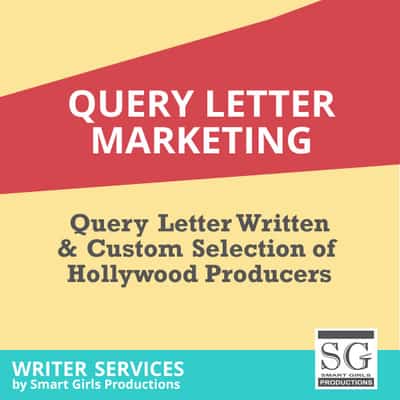 Give Your Script A Chance To Be A Movie
You've spent countless hours writing your screenplay and getting it to the stage it's at now. You may have already tried to market it to no avail. But no matter where you are in the process, if you want to sell your screenplay, you have to get it in front of Hollywood producers who might want to buy it and you have to persist in your efforts.
So what should you do to get the ball rolling?
Query letter pitches have forever been a way for writers to tell decision-makers about their stories — and it's no different for screenwriters. A strong query letter is where you start.
And then the real challenge begins.   
Three Requirements For Marketing Your Screenplay
✓ Your query letter must pitch your script in the most appealing way possible.
✓ You must target the right people for the genre of your script.
✓ You must send it to people at the right level in the food chain of Hollywood.
If you send your query letter to big studios and top production companies, it's almost guaranteed to get returned to you with a threatening letter from their legal department warning:  "No Unsolicited material accepted. And if you send it to us again, we're gonna…." And understandably, since they have to constantly deal with frivolous lawsuits from newbie writers who sue them because one of their movies has a character with the same name!
But on the other hand, if you target companies that have no juice or are no longer active, they can't help your cause either!.
Just like Goldilocks finding the right size bed, you also need to target the companies who are just right. You need to find companies who might be interested in your genre and they need to be companies or individuals at the right level in their career trajectory.  Not too big and not too small.
The Smart Girls Script Marketing Campaign Helps You With All Three Requirements For Marketing Your Screenplay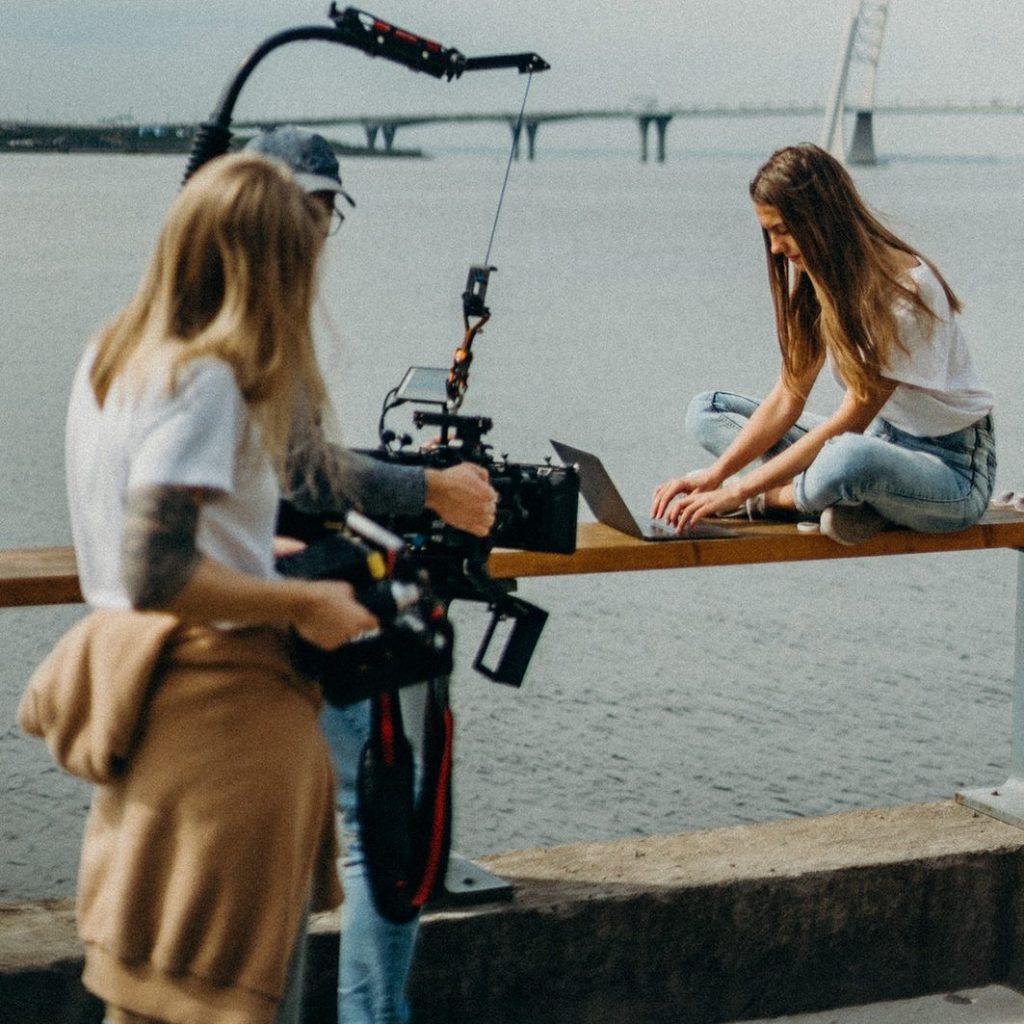 To kick off your Script Marketing Campaign, we have you complete a form with lots of questions about your script, where you see it fitting in the market, and about your background, and related information.
You take your time on completing that, then you let us know you're done, and we take it from there.  We'll draft a query letter for your review. We will create a strategy for identifying the companies who could potentially be your very best targets to offer your script to.
Then you'll get to review the query letter and our research strategy and make any changes.  Then we move into the home stretch for finishing up!
We will do a final review of everything, we'll finalize your list of producers, then we'll email you everything you need to kick off your campaign.
You'll have your Email Query Pitch, a spreadsheet and directory of your producers with as much of their contact information as we can gather.
We'll even give you follow up email templates because it's so important to follow up!
What You Get with Your Script Marketing Campaign
When you are armed with all of these materials, you will have everything you need to give yourself that chance to make the true connections to Hollywood that could potentionally make your script into a movie!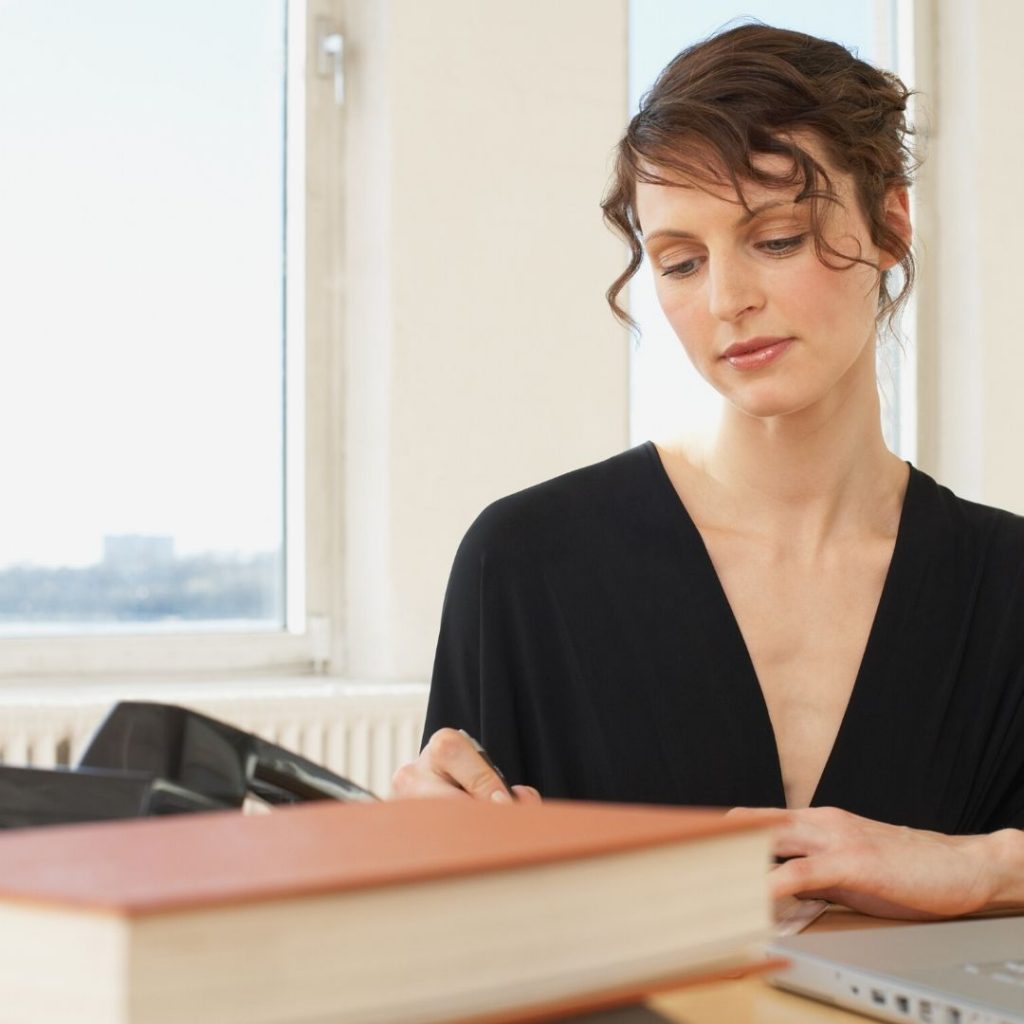 If you want to give yourself a chance to sell your script, a Script Marketing Campaign gets you in the game and creates the opportunity for that to happen.
There are no guarantees in Hollywood, but you DO have to take action for anything to even have a chance to happen. Don't sit back and wish you had done something…. take action. It's easy.
To get started, select the package you want down below, then click on the Add to Cart button and follow instructions from there.
If you're wondering if we're real, feel free to call Melody at our office at 818/907-6511 to place your order — during regular business hours in Los Angeles, Pacific time, of course.
This Proven Step-By-Step Script Marketing Campaign Finds Hollywood Executives For You To Target for Your Specific Screenplay
Getting your screenplay read by Hollywood producers is entirely separate aspect of screenwriting which is as important as writing the screenplay in the first place. — and not nearly as much fun! 
But the fact is, obviously, if you write a great script but no one knows about it, then nothing can possibly happen. It all boils down to one thing…
You have to tell the RIGHT PEOPLE... the RIGHT THINGS... in the RIGHT WAY... at the RIGHT TIME... to inspire them to want to read your screenplay.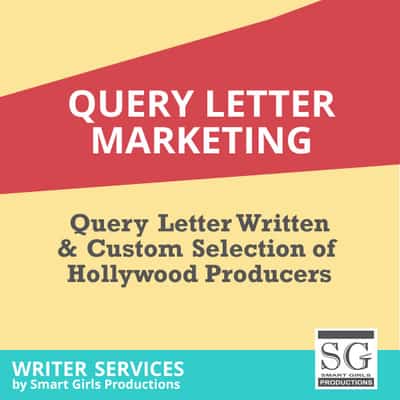 Whether it's the first time you're marketing a script or you've done it many times before, your first step toward getting your movie made is getting your pitch in front of the right people.
That means you need a great pitch that makes people want to read your script. And then you need to find the right producers who could potentially be interested in it.
It's simple… but it's not easy.
That's why we do it for writers like you. So you can spend most of your time writing and let us do the research for you. For your Script Marketing Campaign, we will research and find a Custom list of producers/production companies who would be the best targets for a script like yours.
To get started, select your option below.
Choose Your Option To Get Started!
Query Letter & Email Messages ONLY
You will receive a query letter pitching your script along with 6 Follow-Up Email Message Templates to use for various situations.
Query Letter, Emails, AND Custom Research Of 60 Producers
This packages includes the query letter, four follow up email messages, and the custom list of 60 producers researched for your script.
Custom Research Of 60 Producers – PRODUCER LIST ONLY
For this, you will get a list of 60 production companies identified as target prospects for your script
Do Companies Accept Unsolicited Script Submissions?
Plain and simple, many companies do not accept unsolicited letters. That's exactly why you have to diligently research to find companies at the right level who are more likely to be open to it!
One of the biggest frustrations you will face in marketing your script if you haven't already is getting someone to even read your pitch — because so many companies have a "No Unsolicited Pitches" policy.
At Smart Girls we track over 2000 production companies of various sizes, and as much as possible, we keep track of which ones have super strict policies against reading unsolicited material. If we see a consistent pattern of them returning unsolicited materials, we put mark that in our database and we quit selecting them for our clients.
While most large companies in Hollywood legally cannot accept unsolicited pitches, there are many smaller, producers who would love nothing more than to find a great script that they could move up the food chain with. They are the ones who can get to the bigger companies on your behalf.
Those are the companies we seek out to put on your list.
We strive to find producers who are hungry for a script in your genre. Then we put them on your list.
To Review, Here's What You Get With The Smart Girls Script Marketing Campaign:
✓ A professional Email Pitch and Query Letter about presents your script with a "hook" if your story has one.
✓ A Hand-Picked List of 60 Producers Chosen Specifically For Your Script, eliminating the ones we know don't take unsolicited letters.
✓ A complete, detailed report of exactly who you are sending to so you can follow up with them for as long as you wish. We include any of the email addresses we've been able to find for that executive and company we've chosen for you.
✓ We'll even send you a set of mail merged letters and labels which you can then print and mail out, if you want to send hard copies.
✓and lots more…
You will feel a great sense of satisfaction knowing that you are finally putting your script out there. You will know you have taken a Big Step toward giving yourself a legitimate chance at getting in the Hollywood game, where you could potentially sell your screenplay for hundreds of thousands of dollars and see it made into a REAL Hollywood movie.
Bonuses to Help You Make the Most of Your Campaign
Script Marketing Launch Basics Ebook
In this ebook you'll get a checklist of what to do to make sure your script is ready to go and also to protect it as best you can from IP theft. You'll read about some of the pros and cons of email marketing versus sending out letters like in the past.
You'll also get inside tips on writing your letter and bio or tweaking them when  someone else writes them for you. You'll also get tips on making follow up calls and initial contact with assistants.  This ebook covers the basics of getting your marketing campaign started on making your First Contact with the industry.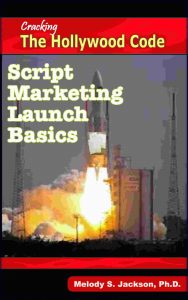 Once you've completed your script and maybe even done your inital contact, you need to follow-up. What does that even look like? How do you do it?   You're heard "you gotta know someone to make it in Hollywood!" This book covers the part they left out about that adage. 
You'll read about the most important kind of person to try to find for you in Hollywood. You'll also get tips on a variety of phone call situations and what to say.  It will also give you ideas on practice tips to prepare you for follow-up phone calls or even meetings. You'll also get general tips overall for your marketing efforts.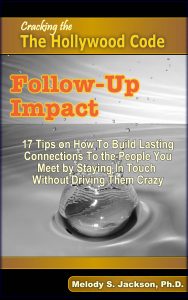 13 Ways to Leverage Your Script Marketing Package
This Guidebook covers such things as the most common mistake writers make when marketing their screenplays and an easy way to avoid it. The basics of marketing screenplays explained in step-by-step detail. Why almost everyone is dead wrong about marketing to Hollywood, and what you should do to be confident you have a strategy that is right for you. The one thing you must do to be successful in Hollywood…. Fail at this and you'll regret it!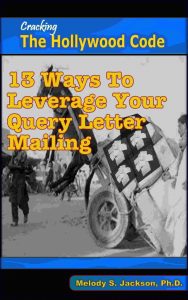 To Get Started Marketing Your Screenplay…
Click on the choice of 3 buttons below or call us and place your order over the phone (818/907-6511), and yes, you will get us LIVE (Mon-Friday, 10:00 – 5:00 Pacific time).
If you are ready to find a a Hollywood Producer to Champion You, let's do it. Just choose your package below and let's Get Started!
It will take you to a secure checkout over at our sister company Hollywood Business School (HBS).
Just click the buttons and you'll get a chance to review it all before paying. The HBS site is also the residence of the Bonus Course you get, the Talent Agent Mailing Green Room. Here you go:
Click the best Button  for you NOW!
Choose Your Option To Get Started!
Query Letter & Email Messages ONLY
You will receive a query letter pitching your script along with 6 Follow-Up Email Message Templates to use for various situations.
Query Letter, Emails, AND Custom Research Of 60 Producers
This packages includes the query letter, four follow up email messages, and the custom list of 60 producers researched for your script.
Custom Research Of 60 Producers – PRODUCER LIST ONLY
For this, you will get a list of 60 production companies identified as target prospects for your script
As Soon As You Place Your Order, Here's What Happens:
You will be sent a link to the Smart Girls Online Green Room. In the Green Room, you will be guided through the process. You will first get a link to the form to fill out of all the information we need to write your letter and select your executives.
After we write your letter, you get to review it along with the Marketing Strategy and you can make as many changes on the letter and strategy as you want until you're satisfied.
Then using our proprietary custom-created SmartStudio™ software, we hand-pick the Hollywood Producers (or Agents and Managers) to target for your script.
After we've written your letter and picked your people, finally, we will email you all of the materials you need to start marketing to Hollywood, with lots of supporting documents to tell you exactly what to do.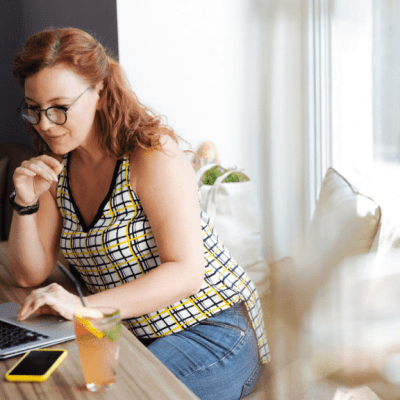 Once you do THIS, you are "In the Game"
You have actually "bought the lottery ticket," meaning you are actually giving yourself a chance for your dream to come true. You have taken the actions that make it possible "literally" that something amazing can happen.
If you're ready to make your dream possible and you want to get started, simply click on the right package for YOU!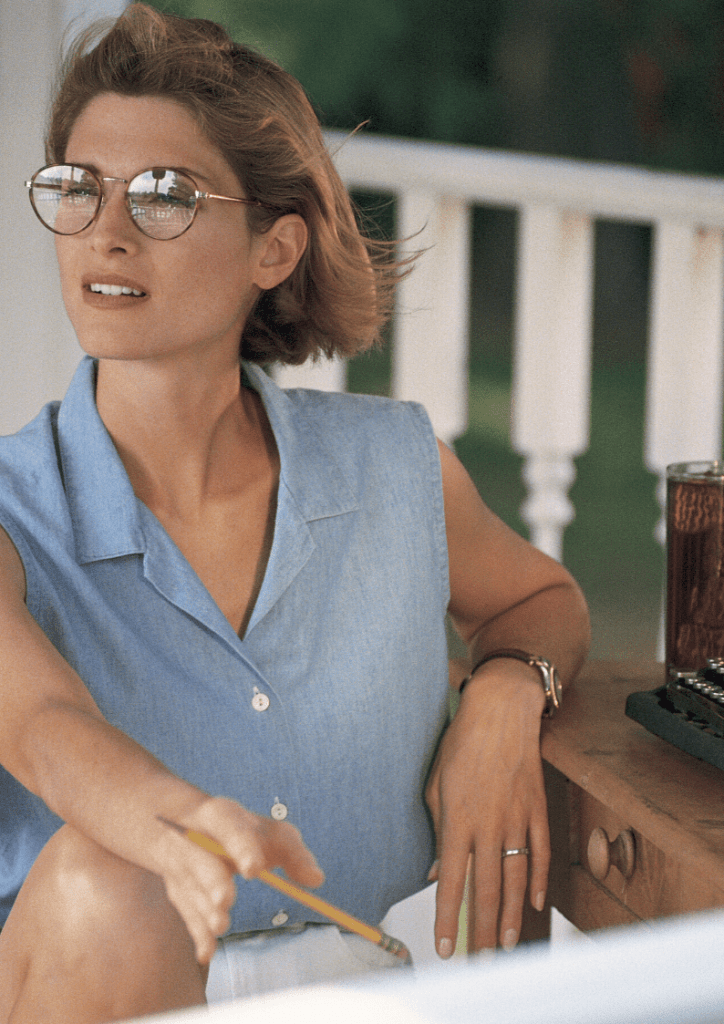 Some writers ask us: "Does this service really work?" or "Will it work for me?"
Since we started in 1992, we've maintained an 80% Success Rate of getting our clients' scripts read by legitimate Hollywood producers as a result of their Script Marketing Campaign. No, that does not mean they sold it. It means they made a contact with a Hollywood producer and got them to read it, which is a critical first step.
That is the FIRST STEP and that is what you are paying for with this service — to take that chance on making a Hollywood connection who will read your script for real.
And this is for people who have no connections whatsoever in Hollywood. Writers who have never sold a script or had one made into a movie. For those who have gotten options or had movies produced, great. But it's also fine if you are brand, spanking new.
The fact is that I cannot guarantee that a top Hollywood producer will buy your script for $250,000 (believe me, no one can).
But I can tell you that your query letter pitch will be professional and you will get a list of legitimate Hollywood producers to target specifically for your script and you WILL be in the game.
You will have your solid list of Hollywood producers to target and follow up with, not just once, but for as long as you wish.
Our clients have had many different types of successes, which could happen for you. What's possible?
Although There's No Guarantee, Here's What Could Happen:
You might get an "option."

You could make an outright sale of your script.

A producer with a connection to a studio could take it to the studio and get them to put the money up to make it.

You have a list that you follow up with over time and you get someone interested six months from now.

A producer could  read your script, decide it's not right for them, but they love your writing and hire you to do re-write one of their scripts.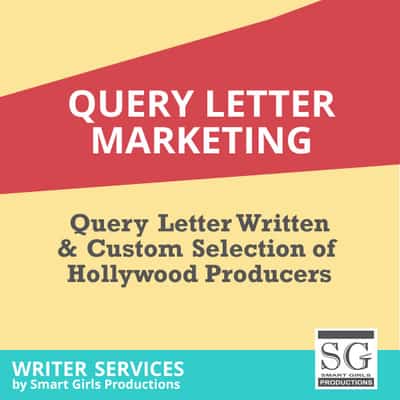 Our clients have gotten their screenplays read by almost every major studio and production company in town, as well as by hundreds of small producers who can be your "proxy," so to speak, to take your script around to the Big Shots in Hollywood.
We've helped all types of screenwriters at all levels take a big step forward their dream. We guarantee that when you do your script marketing campaign that you will be marketing to dozens of  active Hollywood execs who could potentially be the right person to champion it around town to get it made into a movie.
Who Am I to Be Doing This, you might wonder?
Since I started Smart Girls, I've worked with over 7000 clients. My writer clients have gotten their scripts optioned, had their scripts produced, they've gotten rewriting assignments, and writing assignments from the ground up.
Others have gotten TV staff writing jobs, agents, first-look deals, and so on.
When you do a Script Marketing Campaign with us, you set the wheels in motion and open the door to many possibilities for your screenplay and your screenwriting career.
If you are ready to give your script a chance to be a movie, then stop reading this page and place our order!
Too many writers wait too long and then someone else comes out with the same idea and it ends up being a hit – while they're still waiting on the "best time" to market their script. I would be happy to work with you to take the next step toward  your dream!
There's no guarantee you'll sell your script, but you will certain be creating a chance that it could happen.
If you can't take a chance on marketing your script for a few hundred dollars, why would a producer ever want to put millions into making it?
Just imagine what it would be like to see your movie being advertised on TV with "Now running at a theatre near you!" Imagine it.
Take action now. Give your script that chance and give yourself the satisfaction of doing it.
Choose Your Option To Get Started!
Query Letter & Email Messages ONLY
You will receive a query letter pitching your script along with 6 Follow-Up Email Message Templates to use for various situations.
Query Letter, Emails, AND Custom Research Of 60 Producers
This packages includes the query letter, four follow up email messages, and the custom list of 60 producers researched for your script.
Custom Research Of 60 Producers – PRODUCER LIST ONLY
For this, you will get a list of 60 production companies identified as target prospects for your script
Still Have Questions? I Have Answers.
Is it better to email or send a letter thru the mail?
In the past Smart Girls always gave printed letters to clients, but at this point in time, it is better to send by email as your main effort. However, since fewer letters are sent by regular mail, you could use it as complementary strategy to your email. Just ask and we can mail merge the letters and labels for you and send those files for you to print when you're ready.
Should I get an agent first?
Getting representation is always a loaded issue for writers. The fact is that if you have GOOD representation, meaning someone who has clout AND also believes in you and your projects, that is idea. But most of the time, you will find it hard to get the attention of an agent or manager if you are a newbie writer with no feature film credits released in theatres or serious TV series credits.
Do you send these out for me?
No, we do not send out for you. The standard service includes you getting a spreadsheet with the email addresseses we have for the production companies and you can email them yourself. We do offer as an add on service that we can do the First Contact for you for $200 additional. Some writers like this because it gets one more step out of the way for them, then you can focuse on the follow up only.
How much are screenplays going for these days?
It is very rare to sell a screenplay outright. Instead, if you are fortunate enough to get a deal you will more likely get an option, which yields 10% of the sale price.  The selling price will vary greatly depending on several factors. It could range from a $40,000 sale price which New Line Cinema used to pay for an outright sale, to $125,000 or $250,000 for a "spec" screenplay that has potential.
Why do so many crappy movies get made? Mine is way better than any of the crap at the movie theatre right now. How can I get them to see that?
The biggest reason so many crappy movies get made is that a Hollywood executive is held accountable for the movies they greenlight. You have some true creatives -- who get thanked for taking chances at the Academy Awards. But most of the time, executives play it safe by doing things for which they will have a justifiable excuse that the failure was not their fault. These include: Make the 5th, 6th, 7th, 8th movie in a successful franchise.... Having a star attached (then they blame the star)... and or having a great director attached (blame them!)...  Hollywood is about making money just like any other Wall Street firm. The question is what will make money. Some execs do have deep souls and want to make movies that promote their values AND make money. Many are doing their job to make money for the firm they work for.
My script could be either a TV series or movie script? Which is easier to get made?
I never use the word "easy" or "easier" with the phrase "to get made." NO PROJECT is easy to get made. But in the spirit of the question, everyone right now wants a hit on Netflix... or maybe Amazon. They offer a hybrid distribution opportunity  for movies, limited run series, and ongoing series. When you have a long movie that can be broken into several episodes for a limited run series, this can mean more money for everyone. But likewise, you may have a story that is whole and complete in itself. First and foremost focus on what is right for your project. Secondly, if it authentically lends itself to be a limited run series or series, that can be promoted as well. 
Do I have to know someone in Hollywood to have a chance?
No you don't. Not to start. The whole process of the Script Marketing Campaign that Smart Girls works with you on is to help you build contacts. Most of our clients do not have Hollwyood contacts they can go to, so we help you "get to know" them. You don't have to know someone up front... although if you do, we can advise you on how to best reach out to them.
Have any client sold their script and gotten movies made?
My clients have pretty much had every conceivable thing happen, from getting their movie made to getting an option, to million dollar deals being close and falling through, to being hired to write scripts for a company. But you should decide on whether this makes sense for you. Each script is unique as is the zeitgeist. The question is: Does it make sense to you that you need to have a query letter pitch and find the right companies to send it to to give yourself a chance? If yes, then let's get to work on this.
I'm worried they'll steal my idea. What can I do?
This is a valid concern. Be sure to register your project with the WGA and also copyright your work with the U.S. Copyright office. Once you do that, you have  the first level of protection should someone try to steal your work. If you think someone has stolen your work, then you need to hire an attorney. But your starting point is to Register with the WGA and Copyright with the U.S. Copyright office.
Does Smart Girls sign a contract for this?
We have no reason to sign a contract as our service and what we provide is published on the internet.  We also do not guarantee a specific outcome as we have no control over what producers think of your idea or project. However, we are happy to sign a non-disclosure agreement which indicates that we will not share your idea with anyone directly. We are not producers so we will definitely not produce your idea.
I'm on standby for you right now!
Melody Jackson, Ph.D.
Chief Smart Girl & Founder
P.S. Answer the call and allow it to happen.