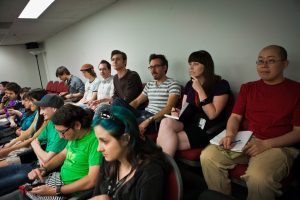 Many actors tell me that they are worried that they don't have a demo reel and they wonder whether they should go out and shoot some scenes to try to come up with one.
The funny thing is that in the many years that I've had Smart Girls and working with thousands of actors, I can count very few times that people actually needed a demo reel when they didn't already have the credits that would give them tape for it.
Your casting calls and auditions are usually videotaped when you go in for an audition anyway — for sure on commercials. And when you go up for a big film or TV role, they will probably want to screen test you anyway.
My overall suggestion is to not spend a bunch of money on a demo reel until you really need one. If you can do it on your own, or you have a friend who can make one up for you and do it inexpensively, then that is fine, go on and get one. Just don't spend a bunch of money on it.
However, there are some occasions that you may need one. As you move up the scale to where you are ready for a good, solid theatrical (film/TV) agent then it is more likely that you will need one. For that situation, here are a few tips to be ready for it when the time comes.
1. Over the course of your career, collect a copy of every project you do, even the student films early on.
Until you have substantial credits, you can use the smaller ones to help fill in pieces for your reel.
For example, you might have only one good scene and a few okay scenes with one or two lines, in which case, the one scene could be the heart of your reel, but the other ones could be edited into a fun little montage.
2. If you have a lot of old tape and just a little bit of new stuff, don't try to pretend that it's all new.
Instead, focus on the newer stuff, but you could come up with a little throughline that incorporates some of the old stuff in an entertaining way. Or you could do a montage at the end, showing flashbacks of when you did a scene on "Maude" or "Friends" or "Hannah Montana."
3. Remember that you are entertaining the person who is watching even though it's a demo.
Make your demo reel a little movie for the viewer. Don't get too "out there" with it, but create a throughline to make it more interesting and sell you better. It just needs to be transparent that you are "trying" to entertain them, so don't be obvious about it.
Try to make it flow naturally, all the while that you are manipulating it to sell you in the best way possible.
Remember that you are entertaining the person who is watching even though it's a demo.
4. Do not make your demo reel over 5 minutes max under any circumstance — and preferably no more than 3 minutes.
Preferably, keep it at 2-3 minutes. If you have a lot of tape, you can break it into 2 or 3 different reels — one for comedy, one for drama, one for commercials, one for hosting, one for film. Separate them out and give the viewer an option on the DVD or on your website.
5. Don't spill your guts and reveal everything you've got up front. Leave people wanting more.
When you leave them wanting more, then they will have to hire you and put you in something to get it! And that's where you want to be.
If you aren't sure what you should put on your demo reel and want to strategize about it, consider having a services for actors. Your demo reel should definitely be aligned with your overall casting and marketing strategy.
Meanwhile, make it your business to collect copies of everything so that you have it when it is time to put your demo reel together for real.